The day started with Jess McMullin and Alex MacLennan's keynote.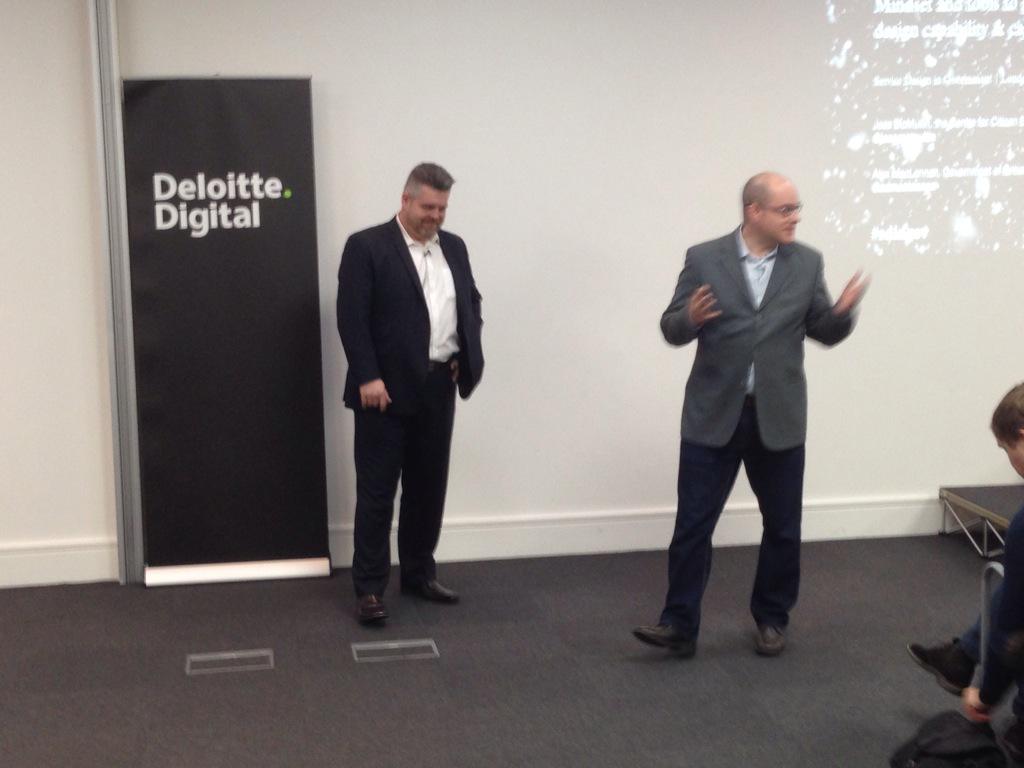 Jess and Alex have been working with the Government of British Columbia in developing a service design framework to be used across departments to set a standard of work, and also to guide people from across several disciplines to use these tools and resources.
Their talk focused on the importance of recognising complexity and dealing with it:
complexity is pervasive and fractal
Governments need to change in order to confront complexity
change is often challenging because we are unearthing the decisions of those who went before us
we must not only change our organisations but also ourselves
We should forget the theoretical made up personas and go do real world research instead.
Legislation is in the foundation of service experience.
People will say that legislation prevents things from changing. We should challenge that as it is not always the case.
The framework for Service Design in Government has 5 layers: experience, touchpoints, delivery, foundations, mandate (cultures, norms, values).
Service Architecture Canvas: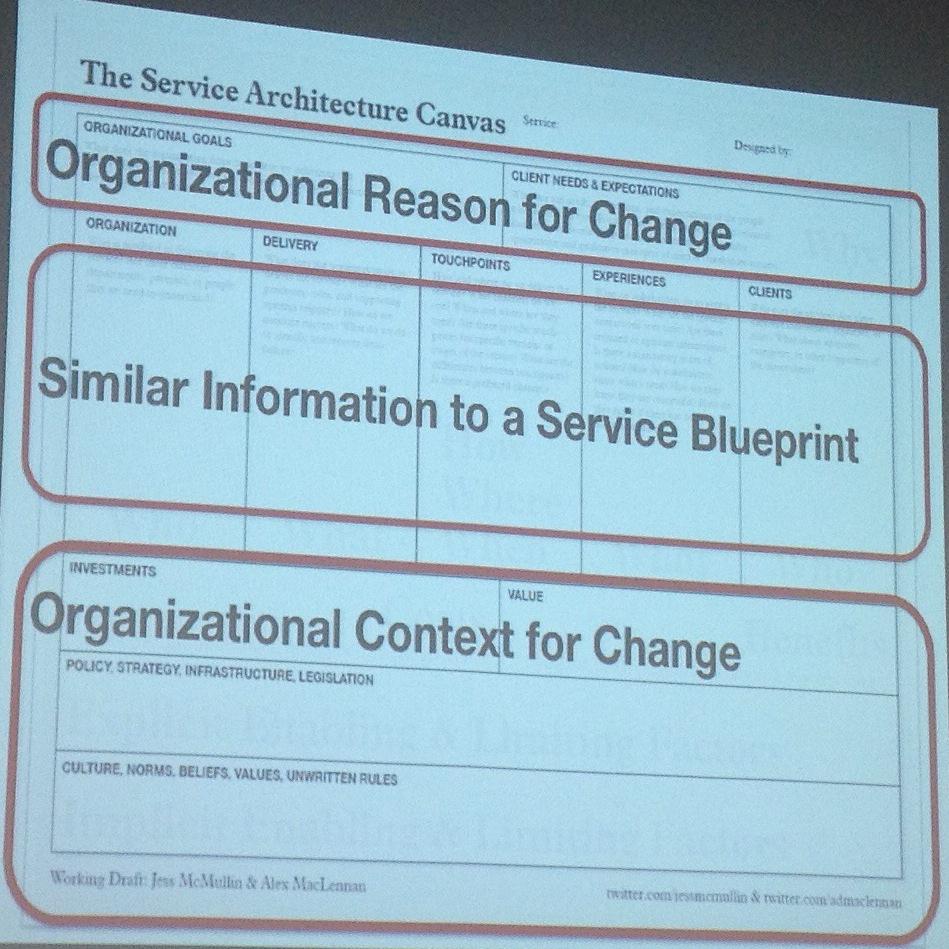 Design maturity continuum: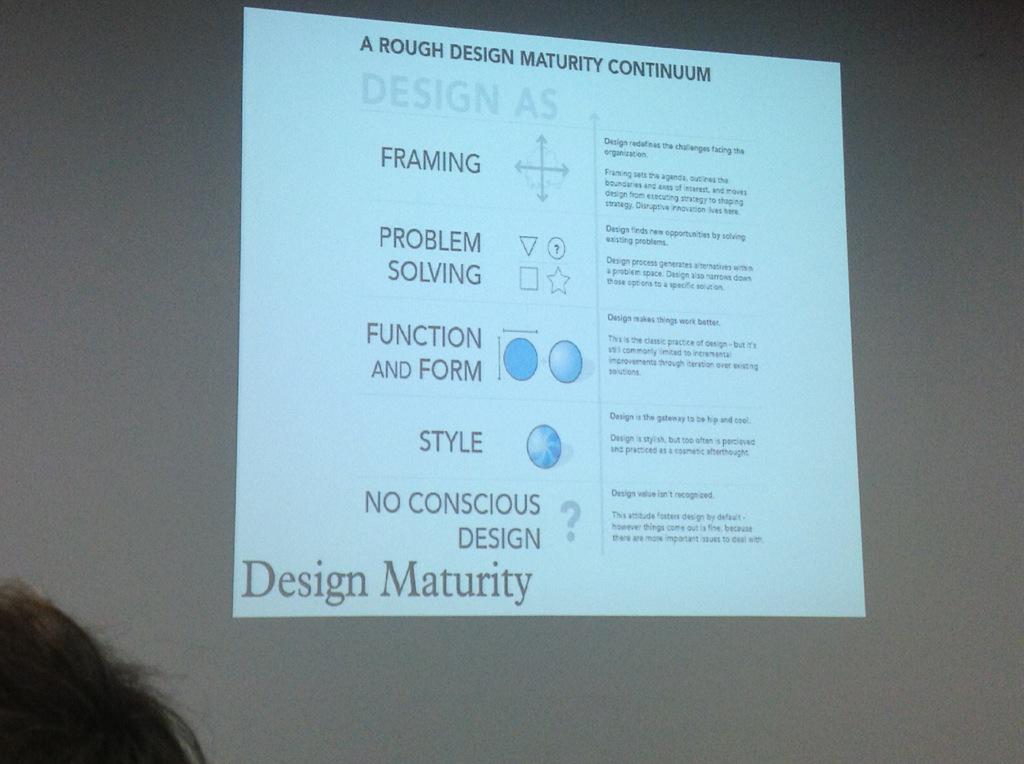 Make people think like designers: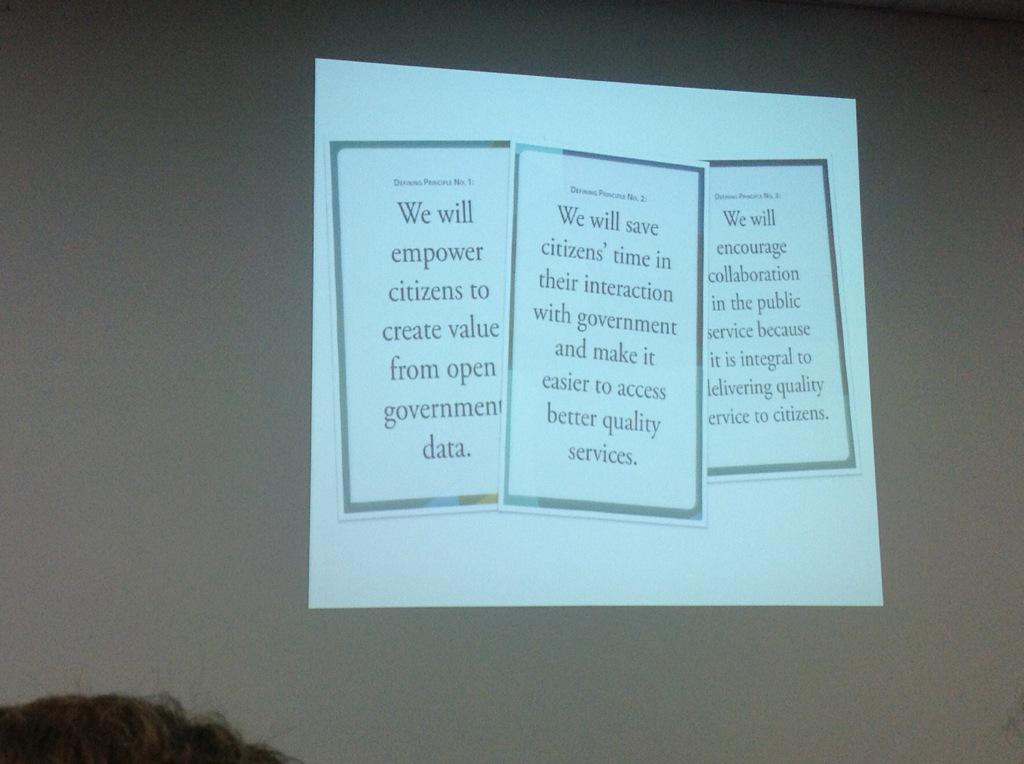 The British Columbia Government User Experience Toolbox: http://www2.gov.bc.ca/gov/topic.page?id=157D6555F8744850A439544F41727402
The 'Gov Whisperer': someone who can get public servants to realise their own design potential. The person who creates an environment where it is safe to change, safe to innovate, involving people in the design process.
Every public servant can be a service designer (even if unconsciously).
Government is an important part of our lives yet we design Angry Birds with more care than we do Public Services.
Individual heroics cannot substitute for lasting systemic change.
From a Service Design perspective, complexity means different pieces of legislation, data models, processed, different systems being used…all behind a click of a button on an online form.
Workshop by Caroline Jarrett and Tim Paul.
The GDS team's work on GOV.UK is saving £62M a year.
The top 28 services used account for 90% of the transactions.
When starting developing GOV.UK, people wanted to jump straight into Bootstrap, but the Design Principles were created first to guide future work.
Reducing the amount of questions in carers allowance form wasn't design work, was negotiating with stakeholders.
Service Manual for designing government services: https://www.gov.uk/service-manual
GOV.UK design patterns: https://designpatterns.hackpad.com
Top items people like to work on design patterns: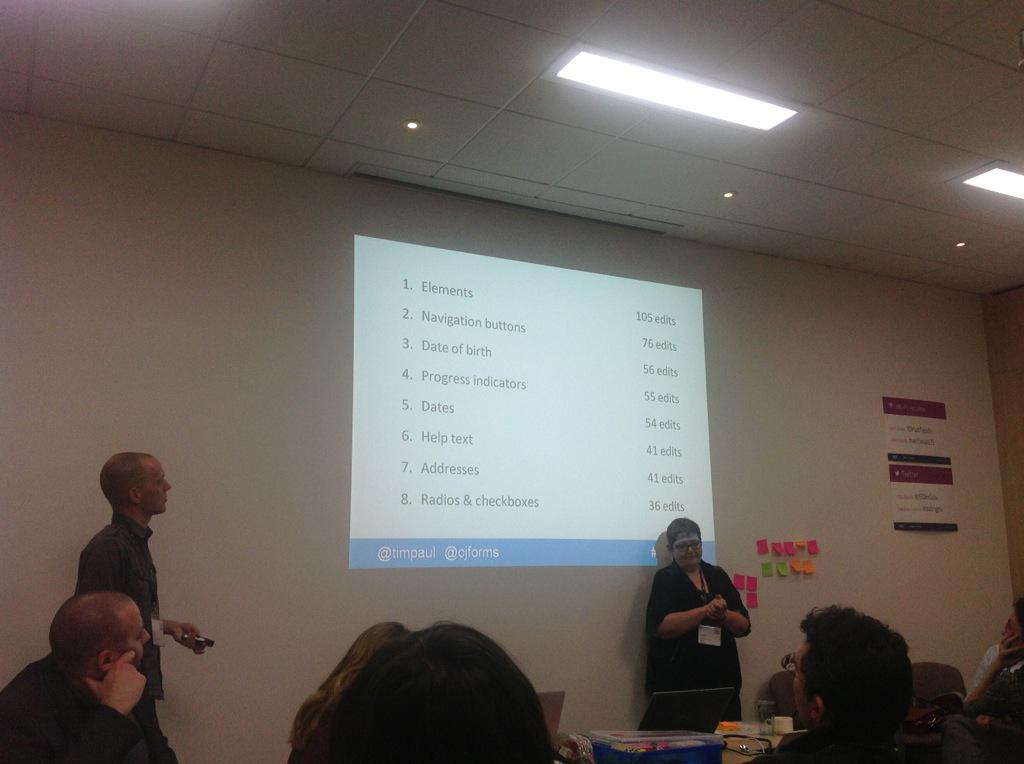 Design patterns:
can't be imposed on people
can't replace designers
can't negotiate with the business
can help with consistency
can provide known answers to common problems
can provide a focus for the community
Talk by Liz Stevensson.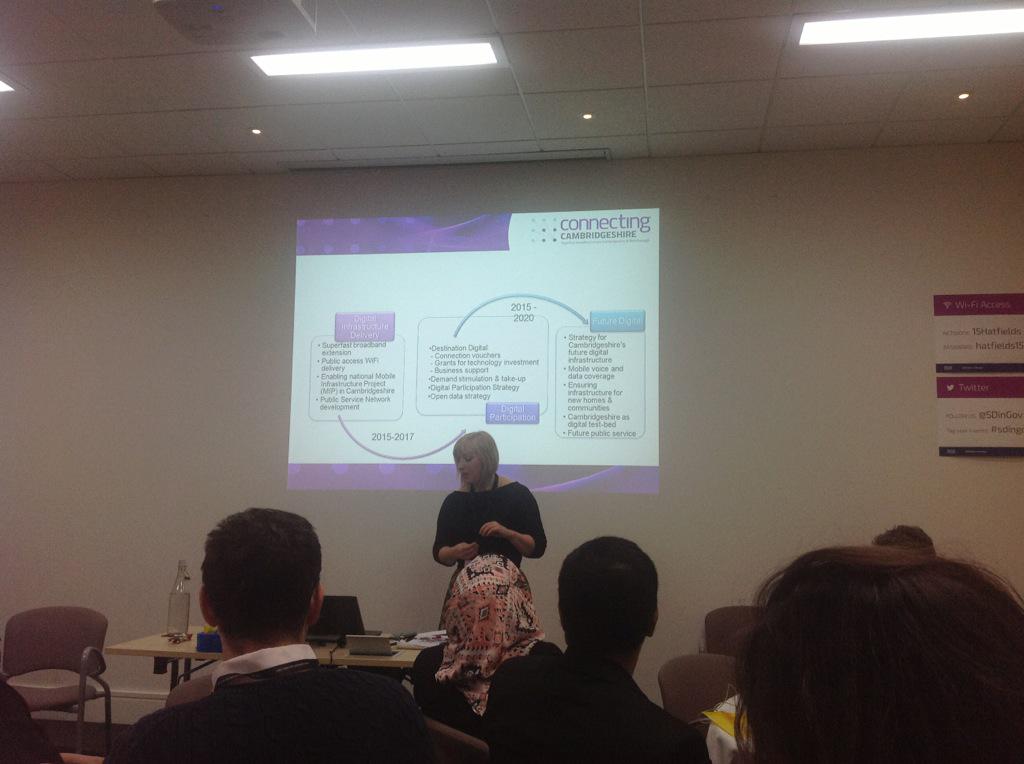 It's only after delivering a set of digital skills to the community that we can think of offering government services in digital channels.
There's a growing digital divide between next generation users and those who are not.
The Digital Inclusion circle: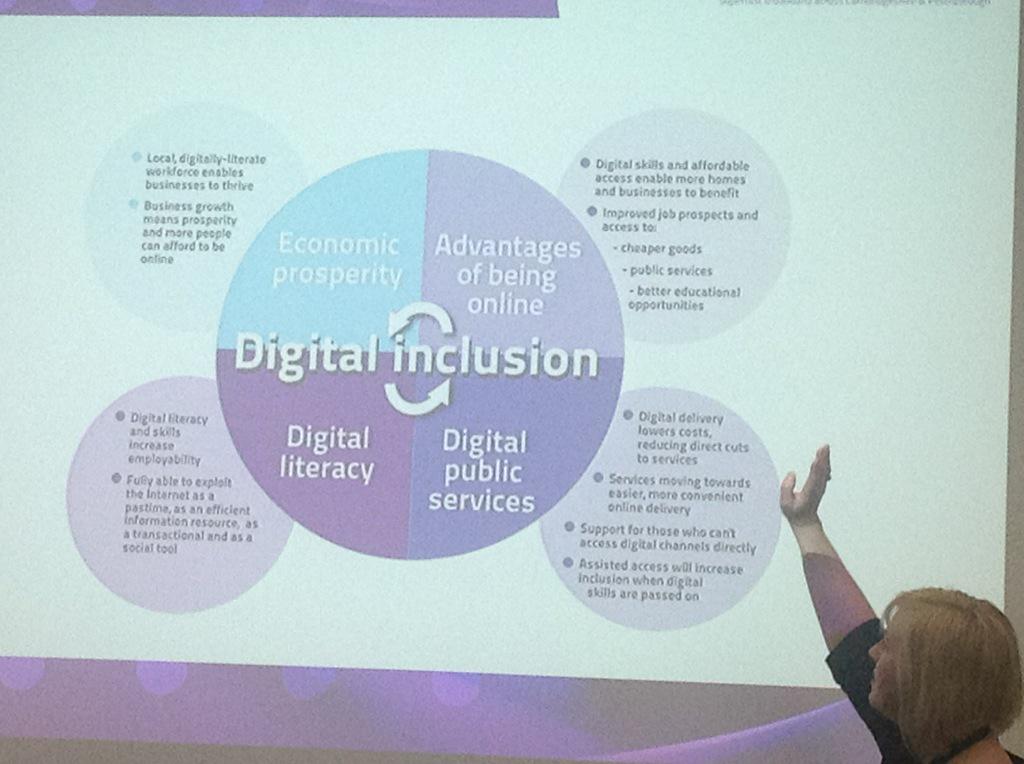 The Cambridgeshire County Council vision for digital participation: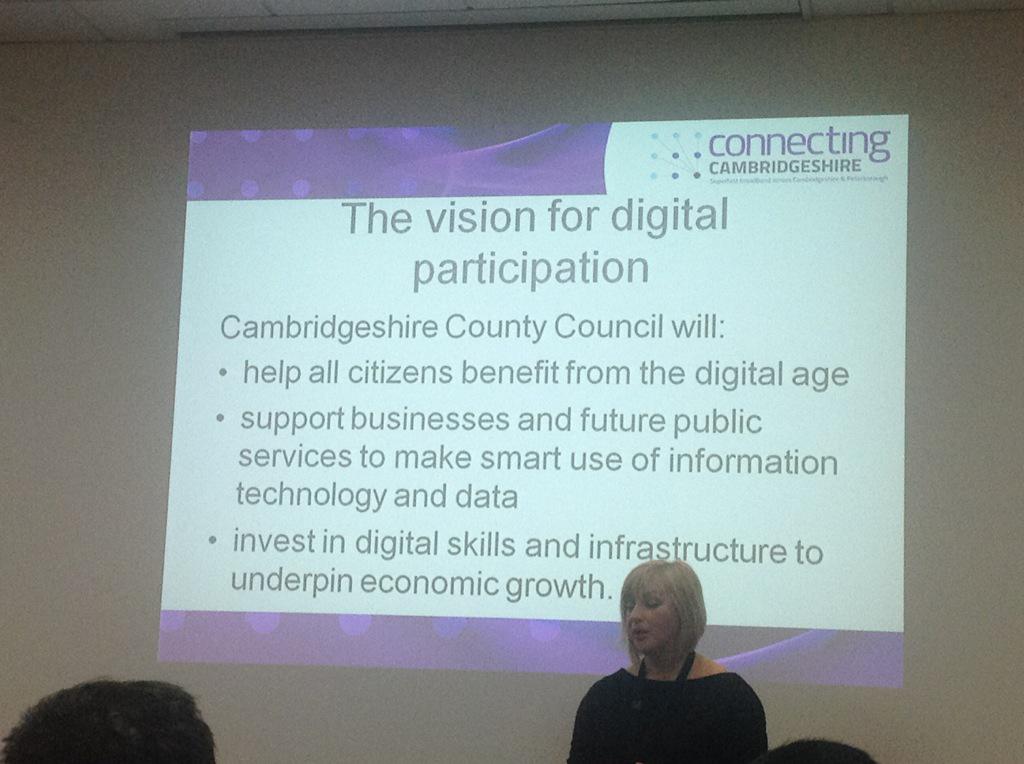 Barriers to digital inclusion: access, skills / trust, and motivation.
Access: the ability to connect and use the internet.
Skills / trust: the skills to use and engage with content, and transact on the internet.
Motivation: people's attitudes and choices for being offline.
Don't let preconceptions limit your design of digital processes. The concessionary bus pass online application for at Cambridgeshire County Council is an example of successful digital take up.
Think of what skill levels you are designing for and accommodate for various skill levels.
Think also of the digital skills set within your organisation in order to effectively implement and process digital transactions.
A strategy for digital inclusion: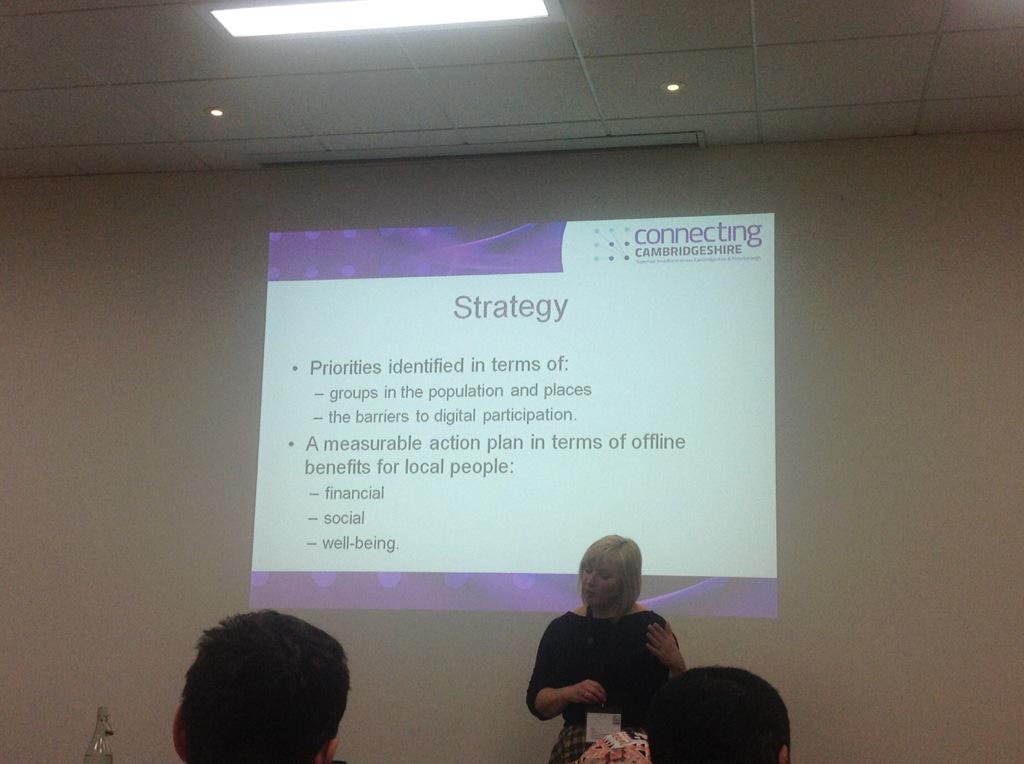 People in deprived areas are more likely to be / become public services' users.
A system of digital inclusion and skills development: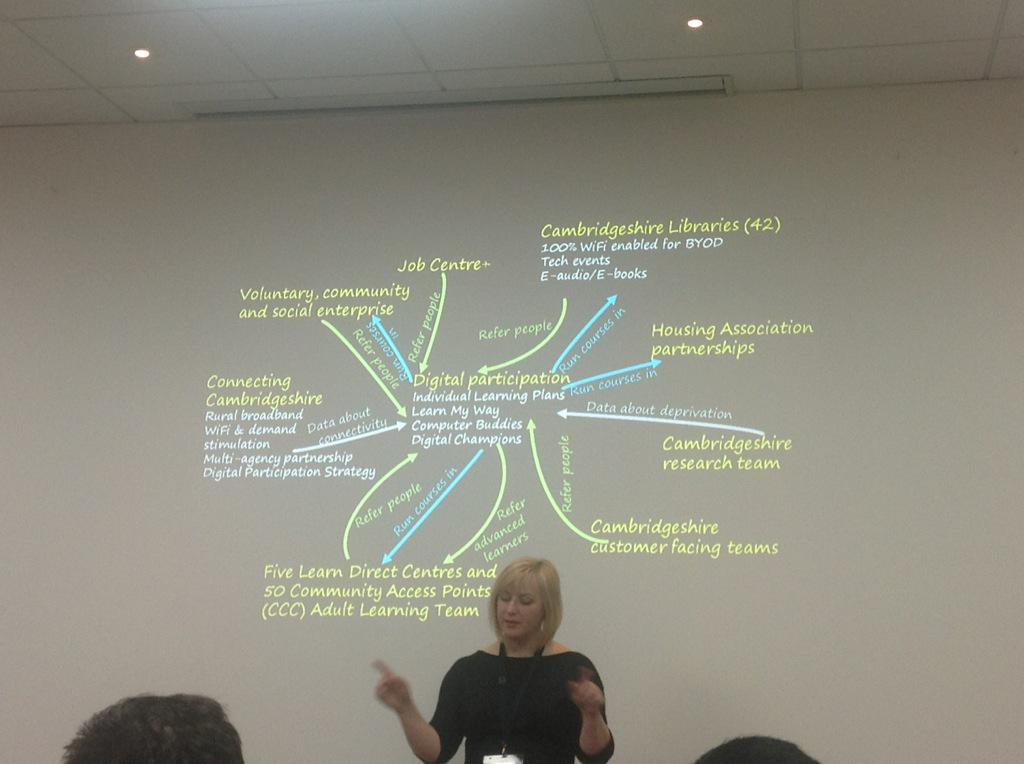 Action plan for digital inclusion: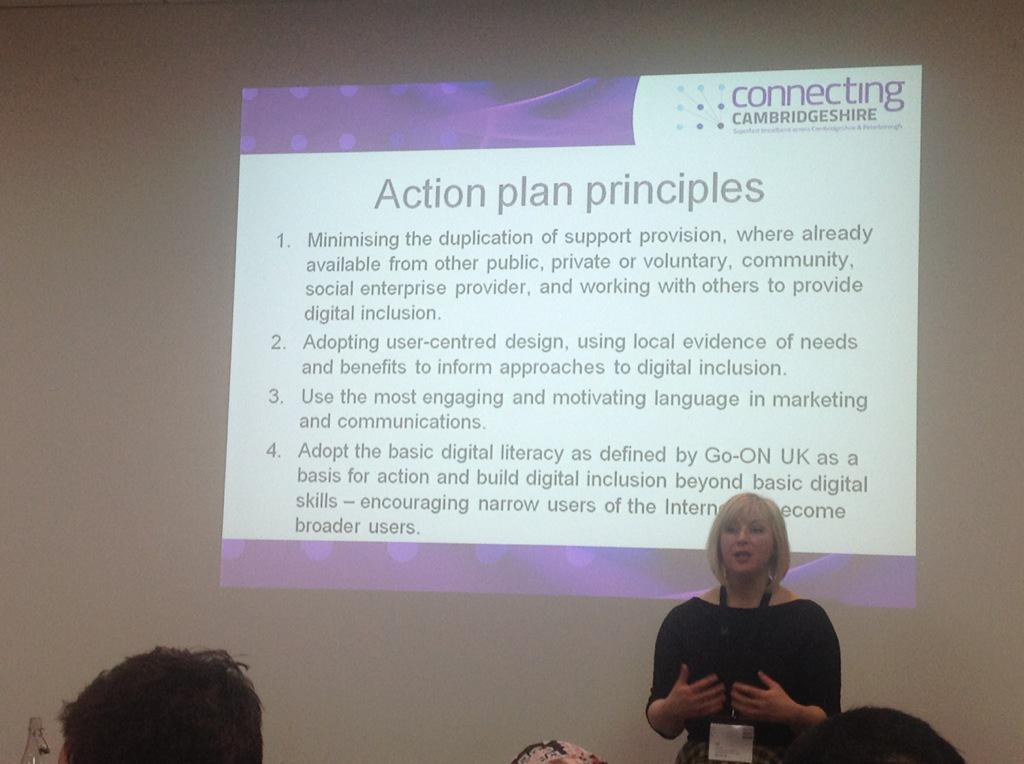 Talk by Anna Whicher and Adrian O'Donoghue.
Challenges in designing services to extend independent living for older people in Ireland: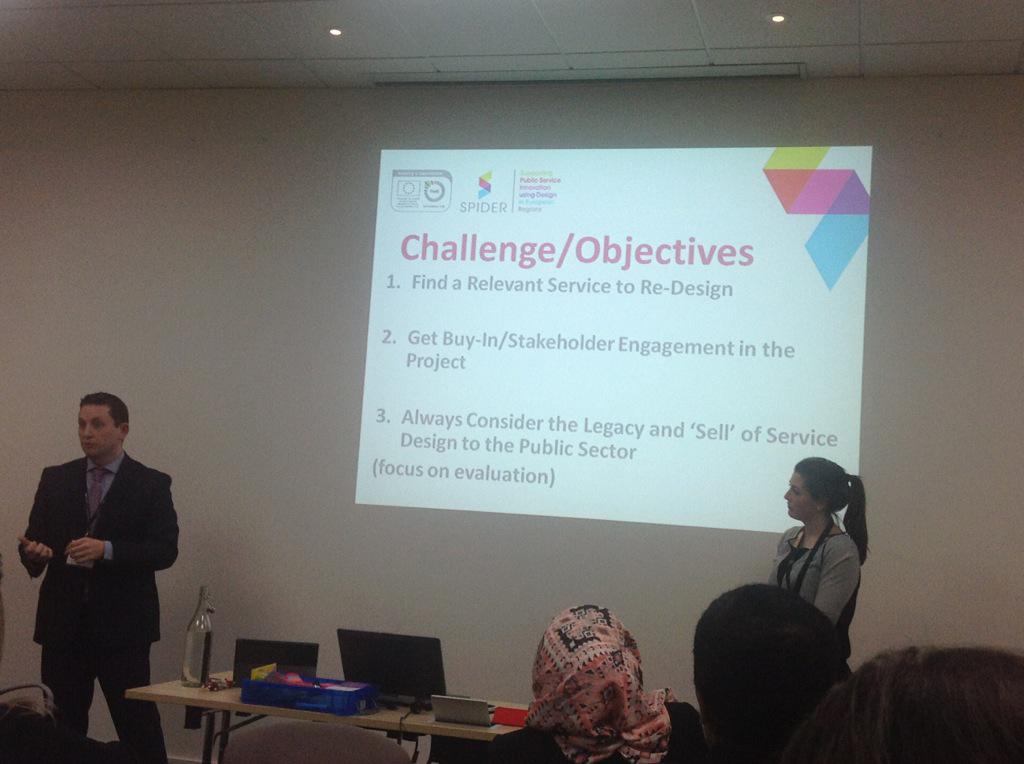 Pilot project in Ireland to extend independent living for older people:
Outcomes from service design workshops on adult social care in Ireland: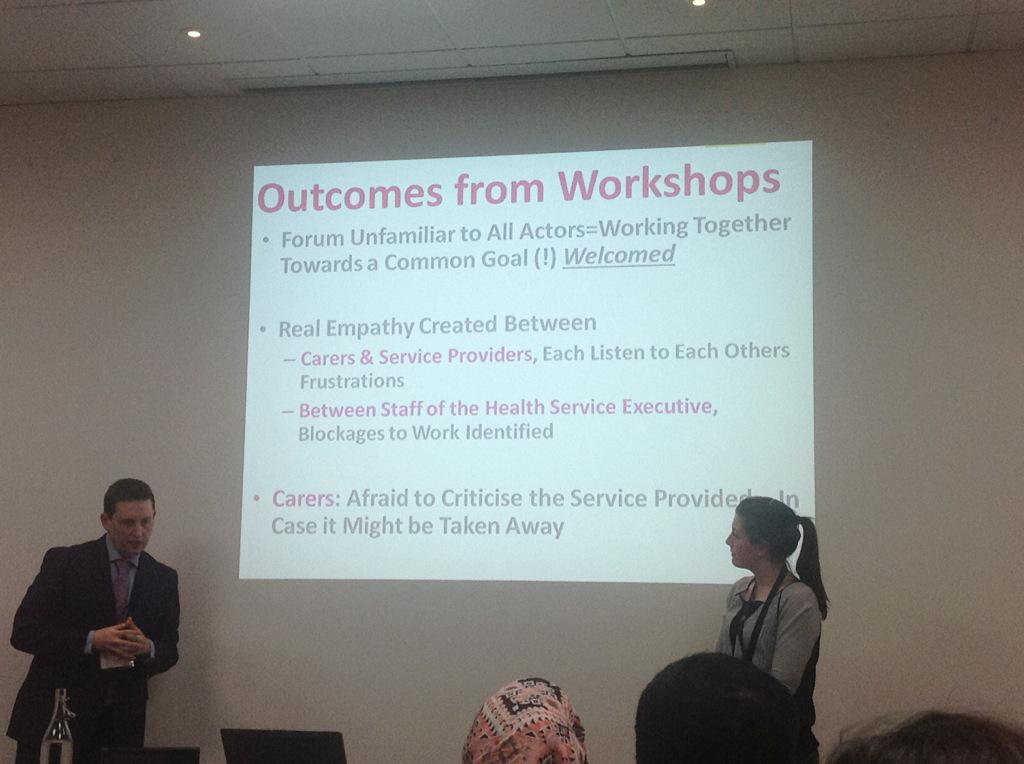 Ireland spends £21M in adult social care. Here are some benefits of the new service to date: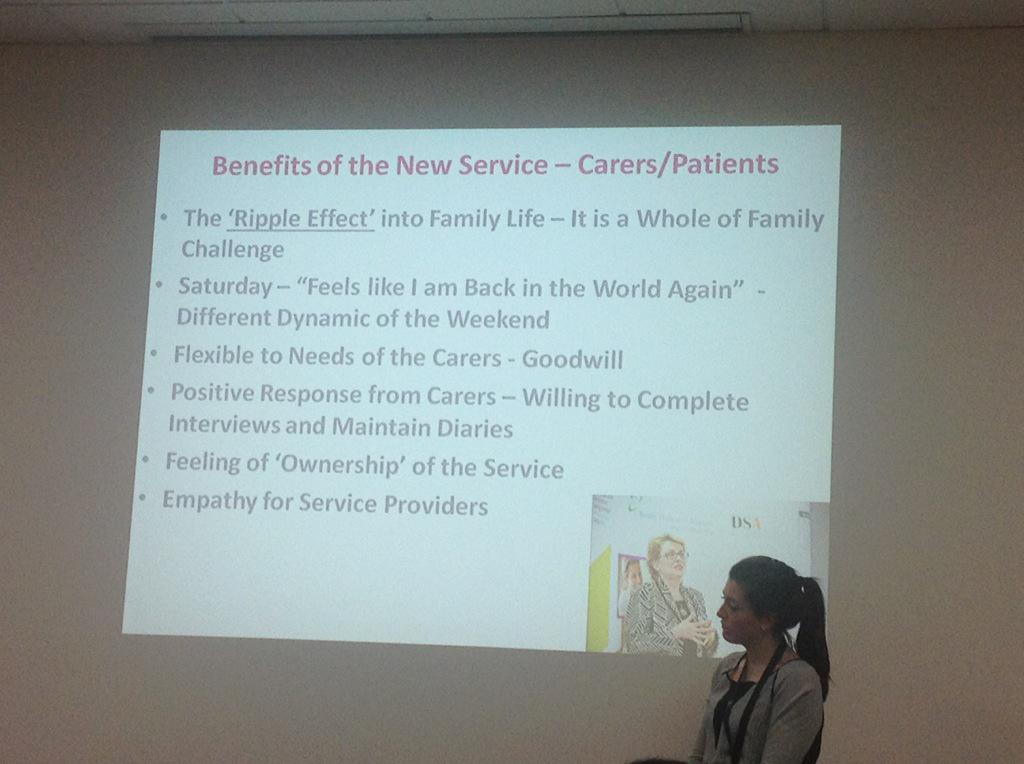 Lessons for service designers: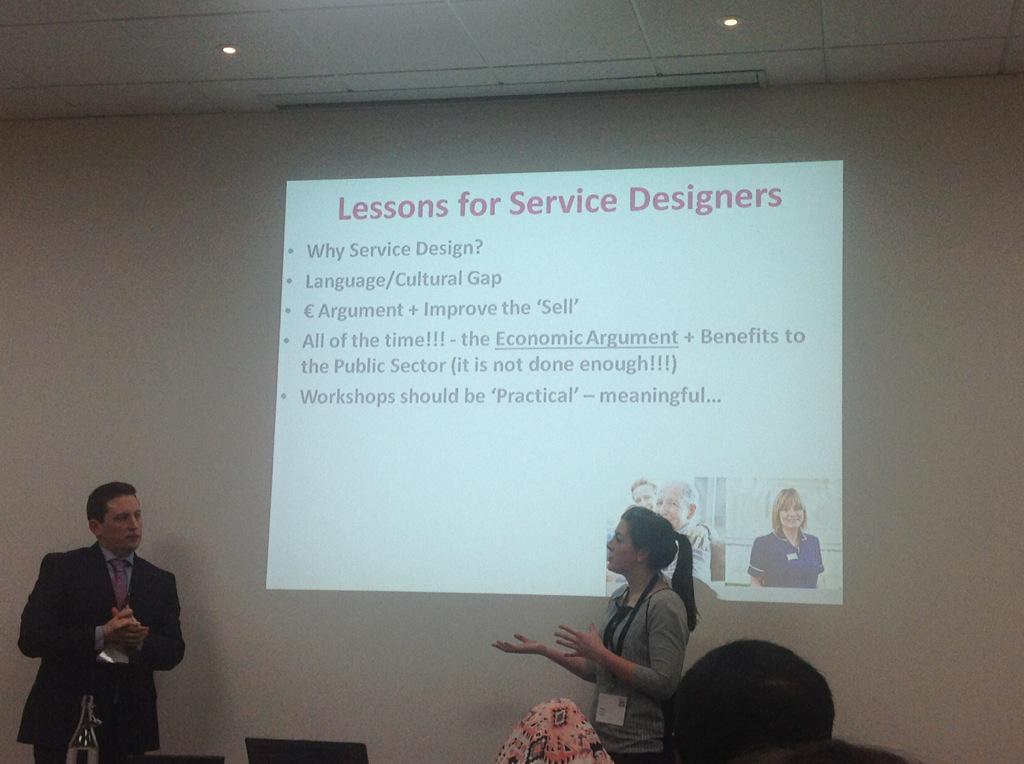 Lessons for Government: prototype and map user journeys at the outset; learn to engage stakeholders.
Talk by Ben Reason, Alison Little, and Pele Bapere.
Staff Engagement model at Transport for London: facilitators, workshops, reachback.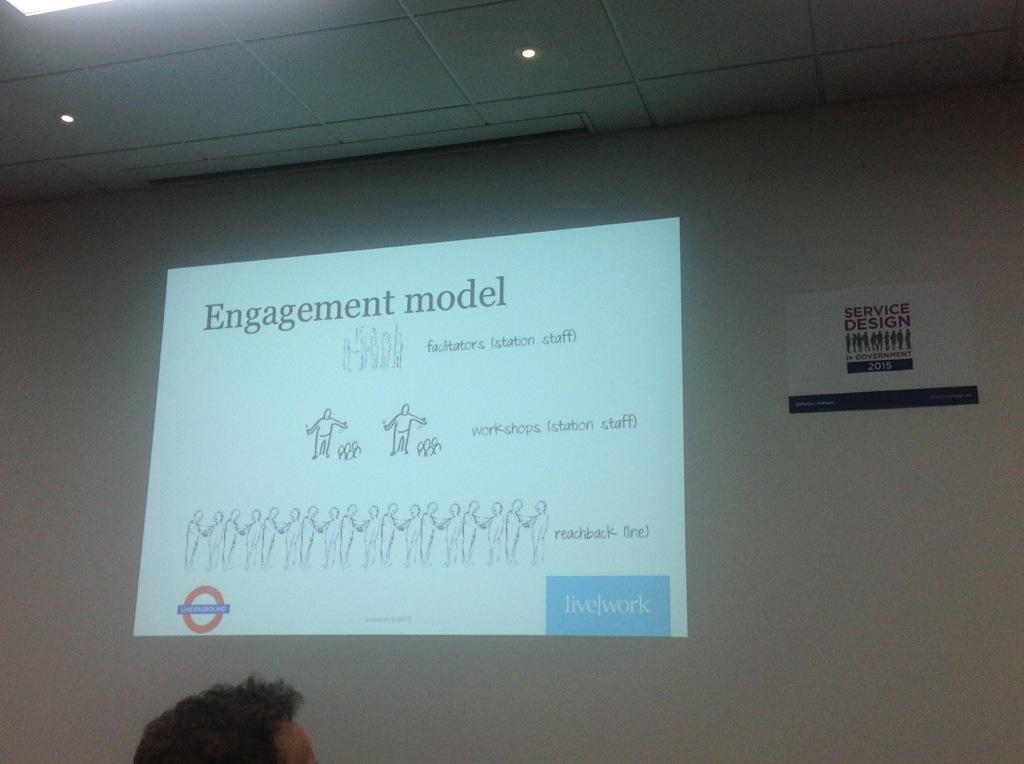 Reachback: get the staff who attend your workshops to have similar conversations at their workplaces.
Approach for running workshops with staff: validate, prove, test, monitor.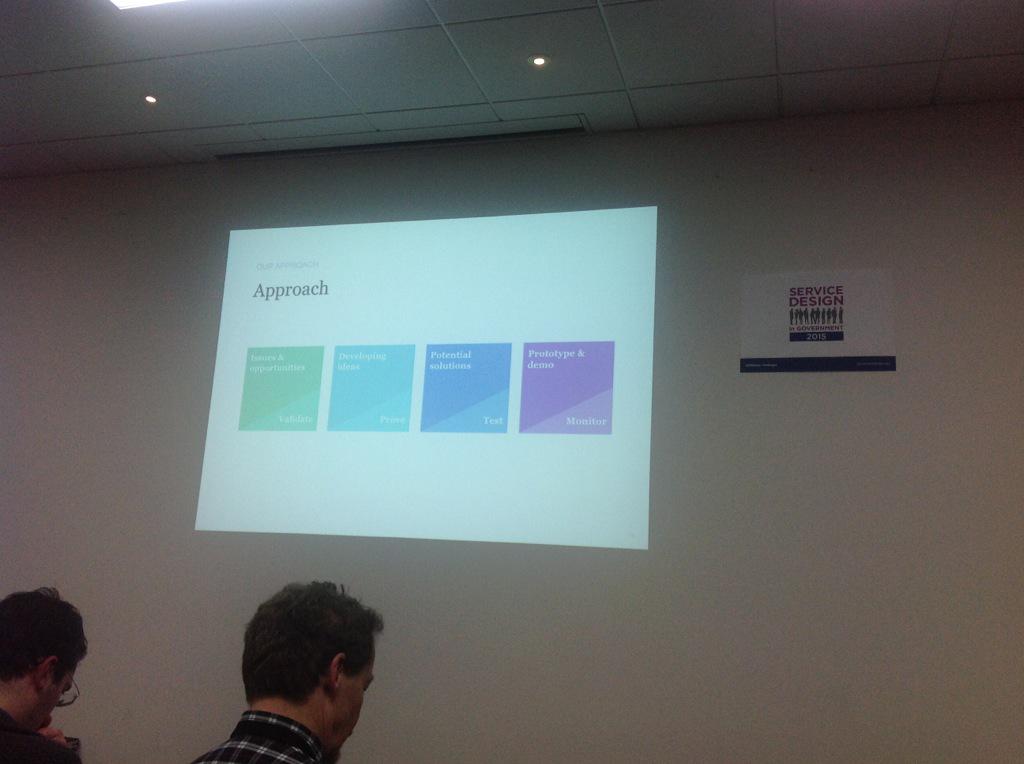 Staff at Transport for London were happy because they felt their ideas were taken into account even if not all taken forward.
Redundancy is a common fear for staff facing change. Starting engagement workshops by addressing this issue has worked for Transport for London.
More information at http://liveworkstudio.com/collections/service-design-in-government/
Lightning Talks
The future of technologies: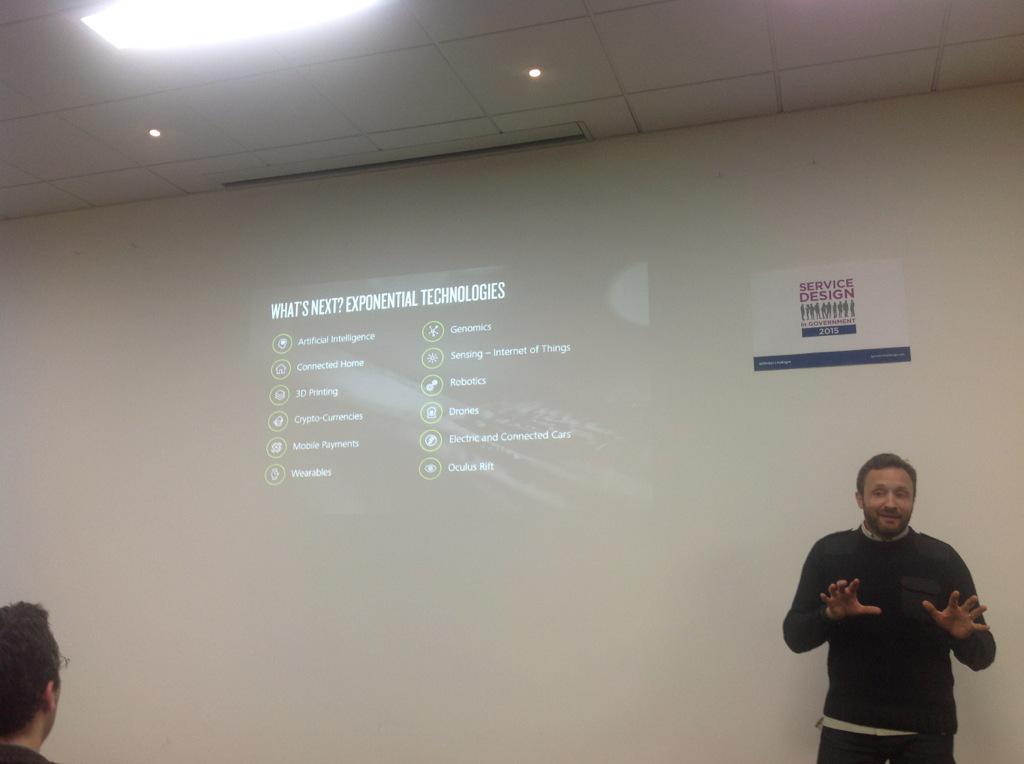 Digital Darwinism: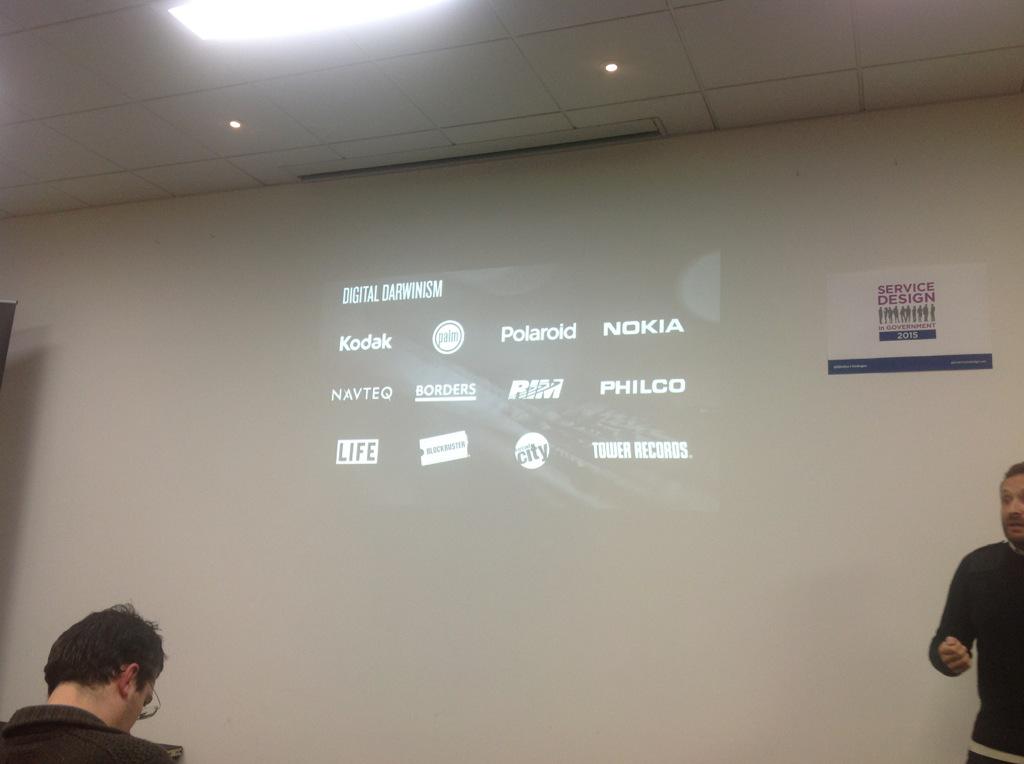 Ione Ardaiz Osacar
Service design goals at Vodafone with transferable lessons to the public sector: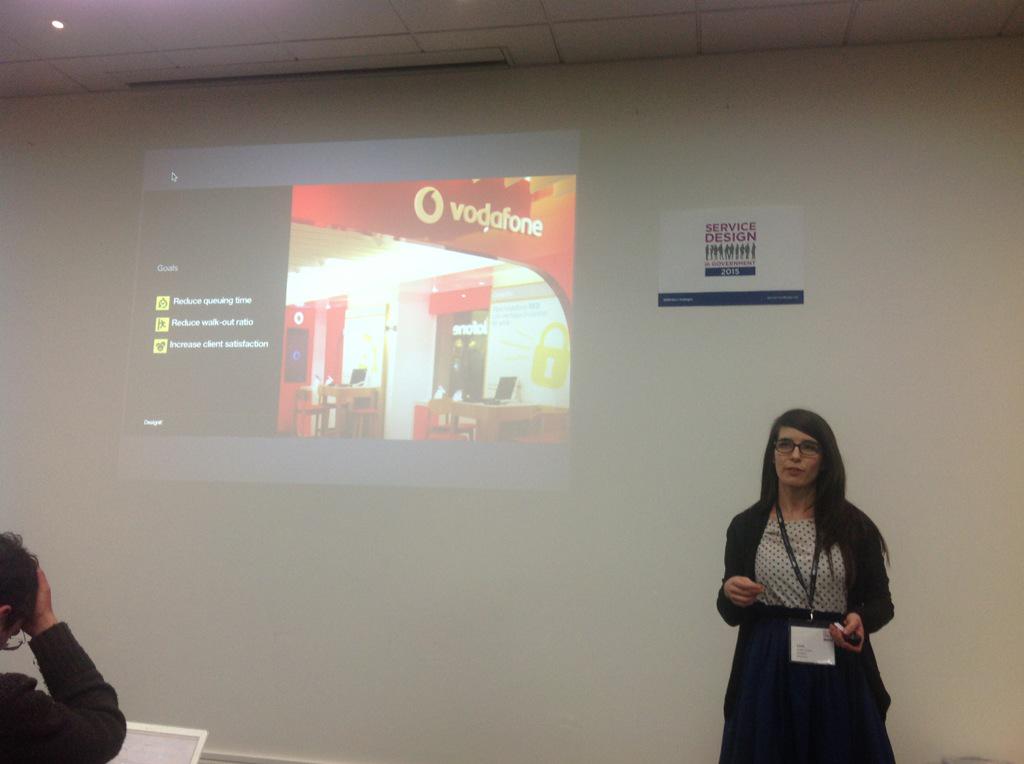 Google vs Gov website performance. Google 5 times better: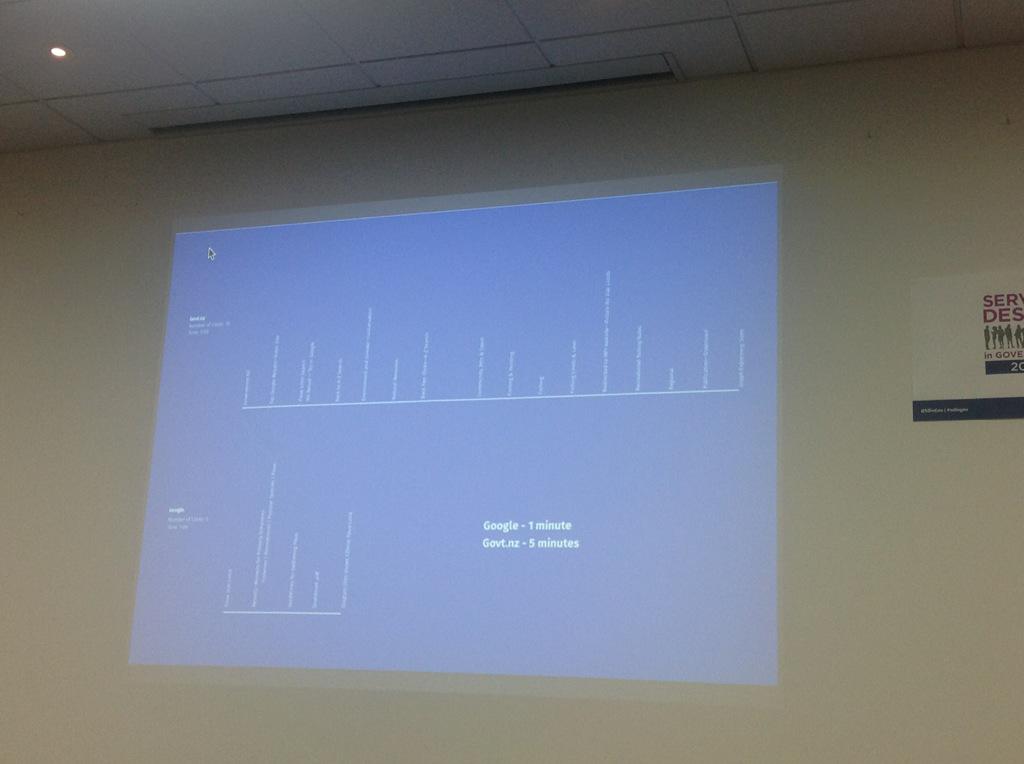 The New Zealand Government adopted the approach of the GDS team on building GOV.UK, but adjusting to their own audience: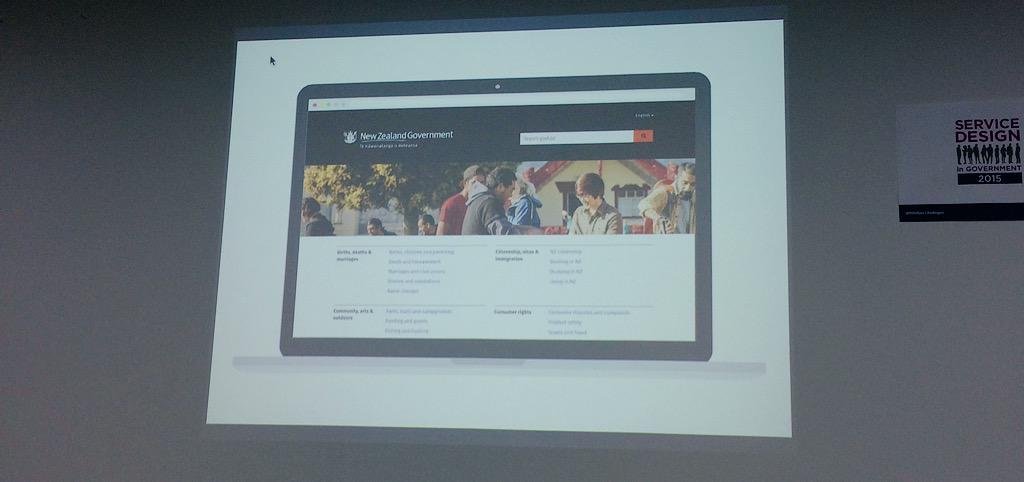 Presentation slides: http://innovationunit.org/sites/default/files/DerbyshireTF_SDinGov.pdf
Tweets