Here are my notes on the sessions I've attended on day 1 of UX Cambridge 2012.
Keynote: The Power of Imagination
By Richard Caddick.
Matthew Pennell has written a comprehensive description of the contents of this presentation. Here are my takeaways (and photos I took):
Having dreams and being brave enough to pursue them. It has worked for the guy who jumped from outer space (image of drawing he did when he was a toddler, below).
Insight + empathy = better design
"Someone to encourage, someone to challenge". Perfect motto for team spirit.
The history of comfy bike saddles: an example of the ramdomness of the creative process.
Cheap, insightful and fun ethnographic tecnique: give your participants 2 cameras and get them to photograph what they like and dont.
Union Carbride ad an example of how creativity caught our attention for 2min on a dull product:
"Be yourself. Everyone else is already taken." (Oscar Wilde)
Sketchnotes by Francis Rowland.
How to find out about the usability of your web site using a survey
Caroline presented on how to use surveys effectively to support usability research.
International standard definition of Usability:
Consider your users' goals.
Don't do what the Portuguese did in the 16th century when it comes to surveys:
Roadmap for building an effective survey:
Survey = questionnaire + process (with lots of testing).
At the end of the session I was the lucky winner of Letting Go of the Words: Writing Web Content That Works book.
Sketchnotes by Michele Ide-Smith.
New, Smarter Defaults in Web Design
You can see Vasilis presentation and Matthew Pennell blog post following the respective links.
Text displayed on a screen should be within a max width of 70 characters for good readability.
The design process should start with content first.
After knowing what content you got/need, then you should ask these questions:

Is today's interaction default through a mouse? Or a finger tip?
When designing your content, focus on small screens. If it doesn't fit in small screen, its not important. Focus on whats essential.
Sketchnotes by Jenny Willatt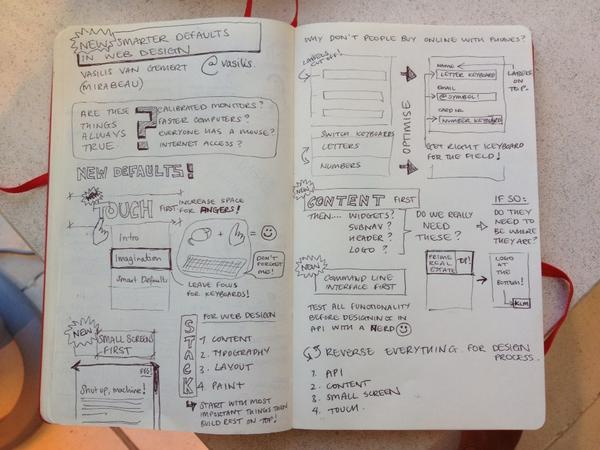 UX Therapy: Don't Jump!
This was a workshop to discuss how to resolve frustrations with upper management constraining UK work. Here is Ian Fenn who was in my work group.

And a quote from Jeff Gothelf:

Playing Games with UX
By Sarah Lacy
Blog post by Matthew Pennell on this session.

Sarah presented Chompy Chomp Chomp, a game she has developed with 2 friends and the role of UX in the game's development.
At the end we had the chance to play a bit.
Lightning talk: Minimum viable research
By Jo Packer

The problem is out there, not at your desk. Go meet your users for real insight into their needs and behaviours.
After party
After the first day of the conference we had a nice social gathering at the Hidden Rooms.